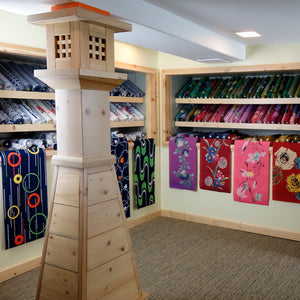 ON THE MOVE
a new beginning
We have sold our family home of 35 years, so now the Okan Arts Shop is on the move. Please bear with us as relocate our online fabric shop and re-open on April 10, 2022.
Thank you for your patience and support!
out-of-the-ordinary fabrics
The Okan Arts online shop sources 20- to 60-year-old textiles in Japan—from kimono stores, antique shops, flea markets, and pickers—for adventuresome quilters and sewists.
To learn about our re-opening in early 2022, be sure to join our Friends List (in the footer below).
always seeking
We continue to purchase textile treasures from Japan—vintage yukata cottons, kimono wools, and more—while the shop is closed.
In the new year, we look forward to offering you more awesome fabric choices!