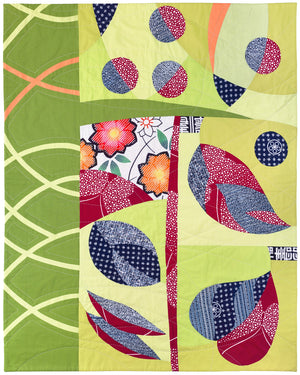 FOR GUILDS
Front Row Seats for All!
Schedule an engaging Zoom talk for your guild members to enjoy—at a hybrid meeting or from the comfort of their homes—with Japanophile author and quilter Patricia Belyea.
VIDEO
To see a 2-minute video about Patricia's guild talks and one-day workshop +click here
CONTACT
To schedule a 1-hour presentation or to discuss a workshop, please contact Patricia directly: patricia@okanarts.com
ZOOM TALK
The Alluring World of Japanese Yukata Quilts
One-hour Zoom talk & virtual trunk show $400
Join Patricia as she takes your guild to Japan for a flashback of the Tokyo Quilt Festival, a tour of the 2022 Yokohama Quilt Show, and a visit to a traditional chusen-dyeing workshop.
Patricia finishes with a show of her own quilts, made with vintage Japanese cottons, and talks about how these special fabrics inspired her.
ZOOM TALK
Spirit Quilts: When a Quilt is More Than a Quilt
One-hour Zoom talk & virtual trunk show $400
Patricia takes joy in creating custom Spirit Quilts for others who are celebrating a life or mourning a loss. Listening to their stories and incorporating the clothes of a loved one, Patricia has learned how stitching memories into quilts completely transforms their meaning and power. Patricia includes an overview of Spirit Quilts she's made over the past decade.
ZOOM TALK
The Unknowing of Creativity
One-hour Zoom talk & virtual trunk show $400
Patricia shares her creative approach to developing new ideas for original quilt designs. Leapfrogging from one compositional concept to the next, Patricia takes your guild members on a journey of exploration with her newest series of quilts—Big Grids with Inserted Curves—made with vintage Japanese yukata cottons and other global fabrics.
ONE-DAY ZOOM WORKSHOP
Make Curved Templates Of Your Own Design
Design and make curved templates for repeated blocks. Guild members start with the basics of making templates (from freezer paper!) and move to a confident approach for sewing curved seams (that are flat!). The workshop project is a baby quilt filled with easy, repeated blocks—made with their own templates!
Minimum: 15 students. Maximum: 24 students. $75 per student.